2018 AAG Annual Meeting: New Orleans, LA
The Transportation Geography Specialty Group sponsored or co-sponsored 39 sessions at the American Association of Geographers Annual Meeting in New Orleans, LA, April 9-15, 2018. The group's business meeting was held on Friday, April 13, 2018.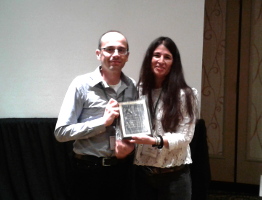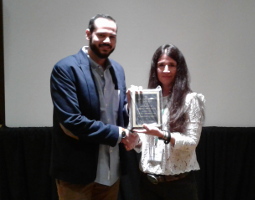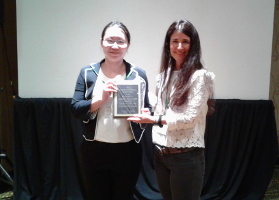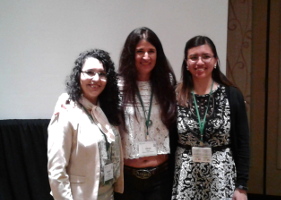 2017 AAG Annual Meeting: Boston, MA
The Transportation Geography Specialty Group sponsored or co-sponsored 25 sessions at the American Association of Geographers Annual Meeting in Boston, MA, April 5 - April 9, 2017. The group's business meeting was held on April 7, 2017.
The 2017 Edward L. Ullman Award for contributions to the field of Transportation Geography was given to Dr.Isabelle Thomas, Professor of Geography at Universite Catholique de Louvain in Louvain-la-Neuve, Belgium. Over the span of the past 30 years, Dr. Thomas has authored or co-authored over 150 publications, accruing nearly 4000 citations. Her major contributions can be found in a number of sub-disciplines of transportation and urban geography. She was a leading pioneer in the use of fractals to classify and understand urban growth patterns and the spatial structure of built-up urban areas, including transportation networks. She has also been a prominent researcher on road accident analysis both automotive and bicycling crashes leading to work on determinants of cycling and policies for promoting non-motorized transportation. Other noteworthy research touches on aspects of accessibility, commuting, and transportation-land-use modeling. In addition to research, Dr. Thomas has been an active participant in the NECTAR series and has served or is serving on the editorial board of a number of journals.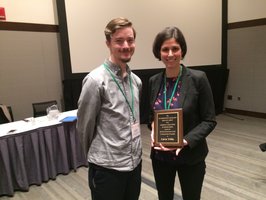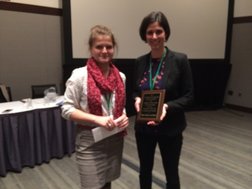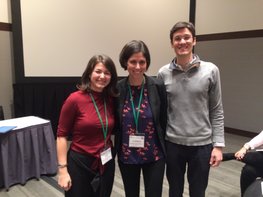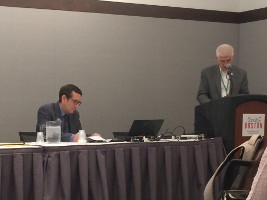 2015 AAG Annual Meeting: Los Angeles, CA
The TGSG sponsored or co-sponsored 37 sessions at the 2015 AAG Annual Meeting in Chicago, in addition to the annual Fleming Lecture.
The 2015 Edward L. Ullman Award for outstanding contributions to the field of transportation geography has been awarded to Karen Lucas, Director of Research and Innovation at the Institute of Transport Studies at the University of Leeds. Karen has made significant contributions in the area of transport-related social exclusion. She has worked with numerous governments, both locally and nationally, to develop policies to help alleviate transport disadvantage and social inequalities. In addition, Karen currently serves as an associate editor for The Journal of Transport Geography.
The 2015 Ph.D. Dissertation Award has been awarded to Astrid Wood for her dissertation entitled Peripatetic Planning. Tracing the Mobility of Bus Rapid Transit through South African Cities completed at the University College London.
The 2015 Master's Thesis Award has been awarded to Simon Cook for Running as Transport from Royal Holloway, University of London.
Travel Awards have been awarded to Mengyao Zhang, University of Connecticut and Jerl Levi McCollum from the University of North Texas.
This year's Fleming Lecture in Transport Geography was given by Bert Van Wee from Delft University of Technology on Thursday, April 23 from 10:00-11:40AM in Grand Suite 3, Hyatt, East Tower, Gold Level. The title of the talk wass Accessible accessibility research challenges.
2014 Student Award Winners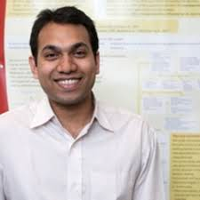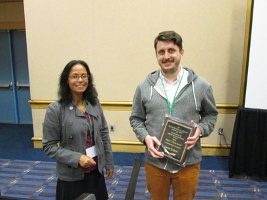 2013 Los Angeles Rail Transit Gold / Red Lines and
Transit-Oriented Development Field Trip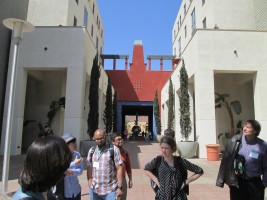 Andrew Goetz (University of Denver) and Keith Ratner (Salem State University) organized a field trip to visit transit-oriented development along Los Angeles' gold light-rail and red subway lines. The field trip was sponsored by the Transportation Specialty Group and the Urban Specialty Group.
The tour was focused on the Los Angeles County Metropolitan Transit Authority (Metro) Joint Development Program, "a real property asset development and management program designed to secure the most appropriate private and/or public sector development on Metro-owned property at and adjacent to transit stations and corridors." MORE...
2013 Student Award Winners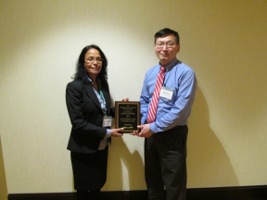 2012 AAG Annual Meeting: High Speed Rail in America: Promise and Peril
The Transport Geography Specialty Group sponsored this panel discussion on 26 February 2012 at the Association of American Geographers Annual Meeting, New York, NY. The panel discussion was organized in conjunction with a special HSR viewpoint issue of the Journal of Transport Geography

Part 1: Bradley Lane (University of Texas, El Paso)

Part 2: Andrew Ryder (University of Portsmouth)

Part 3: Sean Tierney (University of North Texas)

Part 4: Michael F. Ziolkowski (The College at Brockport, SUNY)

Part 5: Anthony Perl (Simon Fraser University)

Part 6: Andrew Goetz (Denver University - Moderator)

Part 7: Panel response

Part 8: Dedicated vs. shared lines, Paying for it, Integration with air travel

Part 9: Classes of service, Who should run the service?
Edward L. Ullman Award
The Edward L. Ullman Award has been offered by the Transportation Geography Specialty Group of the Association of American Geographers since 1990 for outstanding contributions to the field of transportation geography. Edward Louis Ullman (1912 – 1976) was a highly influential transportation geographer and spent most of his academic career at the University of Washington.
2019 - Dr. Jean-Paul Rodrigue, Professor in the Department of Global Studies and Geography at Hofstra University. He is the lead author of one of the major geography of transportation textbooks, The Geography of Transportation Systems (Routledge, 2017), which is accompanied by a comprehensive website https://transportgeography.org/. He is also the lead author of The Sage Handbook of Transport Studies (Sage, 2013). Dr. Rodrigue's research focuses on maritime transport systems and logistics, global supply chains and production networks, gateways and transport corridors. He has published 54 peer-reviewed journal articles, 32 book chapters, 58 technical reports and other publications as author or co-author. He served as the editor for the Transport and Telecommunication Geography section for The International Encyclopedia of Geography (2016), is the current editor of the Journal of Shipping and Trade, and has served on the editorial board of a number of transport related journals. Dr. Rodrigue served as chair for the AAG Transportation Geography Specialty Group and is a board member of a number of professional organizations. Besides teaching a number of transport geography courses at Hofstra University he has also taught transport courses in visiting teaching appointments in China and Belgium.
2018 - Tim Schwanen, Director of the Transport Studies Unit, Associate Professor of Transport Studies in the School of Geography and Environment, and Fellow at St Anne's College, Oxford University. His research concentrates on the geographies of the everyday mobilities of people, goods and information. It is international in outlook, interdisciplinary in scope, informed by the thinking in various sub-disciplines within Geography, and organised around five more general concerns: low-carbon mobilities and cities, futures and temporality, social and spatial inequality, well-being, and philosophy of transport and mobility.
2017 - Isabelle Thomas, Professor in Geography and Director of Research at the Institut multidisciplinaire pour la modélisation et l'analyse quantitative (IMAQ) at the Université Catholique de Louvain.
2016 - Michael Kuby, Professor in Geographical Sciences and Urban Planning at Arizona State University. His work contributes to our understanding of transportation and energy policy, such as the optimal location of alternative-fuel stations and the relationship between public transportation infrastructure and land use. He has served on the editorial board of the Journal of Transport Geography since 1998 and has held in various leadership roles with the Transportation Geography Specialty group.
2015 - Karen Lucas, Director of Research and Innovation at the i Institute of Transport Studies at the University of Leeds. Karen has made significant contributions in the area of transport-related social exclusion. She has worked with numerous governments, both locally and nationally, to develop policies to help alleviate transport disadvantage and social inequalities.
2014 - Bert Van Wee, Professor in Transport Policy at Delft University of Technology and scientific director of TRAIL research school. Dr. Van Wee is well-known in the field of transport geography for his theoretical and conceptual work on accessibility showing a new way of linking a relationship between urban land use and transportation. Throughout his career, Dr. Van Wee's work has not only centered on accessibility alone, but has considered public transportation as integral transportation policy for enhancing accessibility for everyone. Dr. Wee has been deeply passionate about educating and inspiring future transportation scholars.
2013 - John S. Adams is well known in the field of transport and urban geography for his four eras of intrametroplitan growth showing the relationship between urban growth and transportation development in the U.S. He was one of the few distinguished scholars who realized many years ago that transport and urban professionals should work together, not separately. Thus, throughout his career, Dr. Adams' work has not only centered on transportation alone, but has considered transportation as an integral part of urban geography, connected to housing, employment, industry, and regional growth and change.
2012 - Jean-Claude Thill. Dr. Thill's career has included contributions to spatial analysis and spatial modeling, along with GIS-T and data mining, concerning routing problems, bicycle and pedestrian crash analysis, airline flows, and port competitiveness. He also established a graduate certificate program in Transportation and Business Geographics at UNCC and is currently Executive Director of the North American Regional Science Council.
2011 - David Greene. Dr. Greene's work applies interdisciplinary research findings to national transportation energy and environmental policy. Beginning as a research associate at ORNL in 1977, he is now a senior research staff member for the Center of Transportation Analysis within the Energy Division. He serves as the manager of the Energy Policy Research Programs. From 1982 to the present, Dr. Greene has been a chairman or member of numerous committees for the Transportation Research Board of the National Research Council, including committees on energy conservation and transportation demand, forecasting transportation energy demand, energy and environmental concerns, alternative fuels, freight transportation data, transportation information systems and data requirements, and the impacts of highway capacity improvements on air quality and energy consumption. Dr. Greene has written more than 150 professional journal articles, contributions to books, and technical reports. He has served as editor-in-chief of the Journal of Transportation and Statistics and currently serves on the editorial boards of Journal of Transportation and Statistics, Energy Policy, Macmillan Encyclopedia of Energy, Transportation Quarterly, and Transportation Research Part D. Dr. Greene was elected a member emeritus of the Transportation Research Board Standing Committee on Transportation Energy in 1998. He was honored in 1989 and 1993 by a Distinguished Service Certificate from the Transportation Research Board. He received the Energy Specialty Group Paper Award from the Association of American Geographers in 1986 and the Pyke Johnson Award from the Transportation Research Board, National Academy of Science, in 1984. He is a member of the Association of American Geographers, the Society of Automotive Engineers, and the International Association for Energy Economics. He was named a corporate fellow in 1999.
2010 - Andrew Goetz is one of the world's preeminent air transportation geographers and is also one of the disciplines leading authorities on intermodal transportation. He has published over 30 refereed articles on air transport, intermodal transportation, and transport planning. In addition to the refereed articles he has published two books; Denver International Airport: Lessons Learned and Airline Deregulation and Laissez-Faire Mythology. The latter was later translated into Japanese. He has also published numerous invited chapters in books focusing on a wide range of transport topics including but not limited to planning, deregulation, and policy implications.
2009 - Harvey Miller is best known for his seminal text on transportation GIS, published in 2001 and co-authored with Professor Shih-lung Shaw. Equally important has been his work in time geography, time-space geography and the analysis of accessibility in urban spaces. He has published over 35 peer-reviewed papers in the most outstanding journals in his field and over 15 book chapters
2008 - Shih-Lung Shaw is considered a leader in the field of geographic information systems for transportation (GIS-T), Dr. Shih-Lung Shaw has published dozens of book chapters, conference proceedings, and journal articles, including in the first issue of Journal of Transport Geography as well as securing a variety of research grants. He co-authored a well-received text, Geographic Information Systems for Transportation: Principles and Applications (2001). One of Dr. Shaw's most important and ongoing contributions to the rapidly growing field of GIS-T has been in the representation and analysis of temporal patterns. Dr. Shih-Lung Shaw has won numerous awards for his teaching and has served the transport geography community in many ways, including as chair of the TGSG.
2007 - T. R. Lakshmanan established a long record of success as a private sector consultant on urban and transportation planning, as a professor of geography, and as one of the first directors of the US Bureau of Transportation Statistics. Professor Lakshmanan has won dozens of grants from agencies including the National Science Foundation. His research has emphasized the economic and environmental impacts of transportation systems. Professor Lakshmanan's publications include many articles, monographs, and books including Structural Change in Transportation and Communications in the Knowledge Society (2005) which he co-edited with Kiyoshi Kobayashi and William Anderson.
2006 - Barry Wellar is recognized as a leader in transportation research for his insights into optimization techniques, interactive land use-transportation models, applications of GIS in transportation planning, new approaches in the design and implementation of alternative transportation strategies, and new thinking about the conceptualization of the sustainable transportation test. Throughout his career as professor, public servant and consultant, Dr. Wellar has demonstrated an exceptional ability to combine theories, methods, and empirical evidence from a number of disciplines, including geography, economics, mathematics, operations research, planning, civil engineering, sociology, political science and computers/communications.
2005 - Mei-Po Kwan combined the theoretical and empirical consideration of accessibility with visualization using innovative GIS tools. She has been influential in developing innovative work on the relationships between Information & Communication Technology (ICT) and travel behavior, and modeling of emergency response through 3D network analysis. She thus has contributed to set the agenda in transportation and communication, spatial representation, and mobility.
2004 - Richard Knowles, Professor of Transport Geography in the School of Environment and Life Sciences at the University of Salford, UK and a member of its Research Institute for the Built and Human Environment. He has been the Editor of the Journal of Transport Geography (the international quarterly research journal published by Elsevier) since its establishment in 1993. Dr. Knowles is co-Editor of Modern Transport Geography (published by Wiley, 2nd Edition 1998) and is also co-Editor of Ashgate Publishing's Transport and Mobility monograph series. His research has focused on the effects of transport deregulation, privatization and franchising and on impacts of new transport infrastructure on transport and development.
2003 - Kingsley E. Haynes is one of the early geographers to apply large regional transport planning models. Among his most significant contribution is his research focused on spatial interaction modeling, which helped establish a solid conceptual and methodological background about transport systems and the relationship between transport systems and regional economic change. His work contributed to policy debate at the regional and national levels.
2002 - Brian Slack was among the early contributors to the understanding of spatial impact of the transport service industry and instrumental in establishing connections with other areas such as urban planning through his work on transport terminals and intermodality.
2001 - Thomas Leinbach made substantive contributions to understanding issues of transport delivery and the impacts of accessibility on rural settlements. He is a master at relating transport to the broader socio-political and economic context of resettlement processes, employment behavior, peasant household survival strategies, human capital formation, and enterprise development.
2000 - Donald Janelle.
1999 - Bruce Ralston.
1998 - Morton O'Kelly.
1997 - Susan Hanson.
1996 - James Vance.
1995 - William R. Black.
1994 - William Garrison.
1993 - No award given.
1992 - Howard Gauthier.
1991 - Harold M. Mayer.
1990 - Edward J. Taaffe.
The Fleming Lecture in Transportation Geography
When in 1992 Professor Douglas Fleming retired from his teaching career in transportation at the University of Washington (and his earlier career in merchant shipping), the Department of Geography decided to create a fund that would enable to offer an honorarium for a distinguished lecture at the Annual Meetings of the Association of American Geographers. This lectureship, which honors the long tradition of transportation studies at Washington, including William Garrison and Edward Ullman, as well as Doug Fleming, is designed to recognize outstanding contributions in the field. Since the Transportation Geography Specialty Group includes most of the academic specialists as well as many people in the transportation sectors of the economy, the department at Washington solicits the recommendation each year of an outstanding person to honor. Past speakers include:
2019 - Tim Schwanen - Geographies of transport in the new climatic regime
2018 - Isabelle Thomas - Interaction fields and ICT data: Rediscovering (transport)
2017 - Michael Kuby - Sustainable transportation for the 86%: Location models and survey research for planning alternative-fuel infrastructure
2016 - Karen Lucas - One step beyond: Questing for sustainable mobilities in the Global North and South
2015 - Bert Van Wee - Accessible accessibility research challenges
2014 - John F. Adams - Ten things to know about American cities
2013 - Jean-Claude Thill - About flows, spatial interaction, and spatial economic organization
2012 - David Greene
2011 - Kevin O'Connor
2010 - Harvey J. Miller - Transparent transportation and mirror worlds
2009 - Shih-Lung Shaw - Individual-based tracking data: Potential and challenges to transportation geography
2008 - T. R. Lakshmanan
2007 - Barry Wellar - Geographic factors as a core element of sustainable transport best practices in metropolitan regions in Canada (slides)
2006 - Mei Po Kwan - Mobile communications and transportation geography
2005 - Richard Knowles - Transport shaping space
2004 - Kingsley Haynes
2003 - Brian Slack
2002 - Yehuda Hayuth - Intermodal transport and the integrated global trade
2001 - Andrew Goetz - Deregulation, competition, and antitrust implications in the US airline industry
2000 - William Black - Social change and sustainable transport
1999 - Thomas Leinbach
1998 - Donald Janelle
1997 - Morton O'Kelly
1996 - Susan Hanson
1995 - Gordon Fielding
1994 - William Garrison
1993 - Edward Taaffe
Dissertation and Thesis Award Winners
The TGSG Outstanding Thesis and Dissertation Awards recognize outstanding theses and dissertations in transportation geography. There are two awards, one for best Master's thesis and one for best PhD dissertation. These awards each have a $300 prize, and winners are recognized and receive a plaque at the awards luncheon. We encourage submissions by students who do not necessarily consider themselves transportation geographers but are working on exciting and innovative transportation topics. Students must be members of the AAG to be eligible for either award.
2019 (PhD), Rafael Pereira, Distributive Justice and Transportation Equity: Inequality in accessibility in Rio de Janeiro (supervised by David Banister and Tim Schwanen, Oxford University. Examiners: Bert van Wee, Delft University of Technology and Nihan Akyelken, Oxford University)
2019 (MA), Kyle Sorlie Titlow, "De Alguna Manera Llegas": A Geographic Information Systems Study of Public Transit Accessibility for Precarious Settlements in Buenos Aires, Argentina (supervised by David Plane, The University of Arizona)
2018 (PhD), Taylor Oshan, A New Era of Spatial Interaction: Potential and Pitfalls, Supervised by A. Stewart Fotheringham, Arizona State University
2018 (MA) Yuqin Jiang, Urban Accessibility Measurement and Visualization: A Big Data Approach, Supervised by Diansheng Guo, University of South Carolina
2017 (PhD): Calvin Tribby, Activity Spaces, Route Choices and Neighborhoods: Assessing the Built Environment Associations with Walking, Supervised by Harvey Miller, Ohio States University
2017 (MA): Elina Sukaryavichute, Transit Planning, Access, and Social Justice: Competing Visions of Bus Rapid Transit and the Chicago Street, Supervised by David Prytherch, Miami University of Ohio
2015 (PhD): Astrid Wood, Peripatetic Planning. Tracing the Mobility of Bus Rapid Transit through South African Cities, University College London
2015 (MA): Simon Cook, Running as Transport, Supervised by Royal Holloway, University of London
2014 (PhD - tie): Kathleen E. Deutsch-Burgner, An Investigation in Decision Making and Destination Choice Incorporating Place Meaning and Social Network Influences Supervised by Konstadinos G. Goulias, University of California, Santa Barbara
2014 (PhD - tie): Abu Toasin Md Oakil, Temporal Dependence in Life Trajectories and Mobility Decisions Supervised by Dick Ettema and Theo Arentze, Utrecht University
2014 (MA - tie) Colin Dony, Using GIS to determine travel impedance to hospitals for infants with spina bifida in Florida, 1998-2007 Supervised by Eric Delmelle, University of North Carolina at Charlotte
2014 (MA - tie) Daniel Schleith Investigating spatially disaggregate commuting for workers with different incomes in Leon County, Florida, Supervised by Mark Horner, Florida State University
2014 (MA - honorable mention) Sylvia Brady, Mobility and aging in Denver, CO: Travel behaviors, mobility barriers, and perceptions of transit Supervised by Eric Boschman, University of Denver
2013 (PhD) - Woo Jang, Spatial dynamics of disaggregated urban commuting patterns, Supervised by Xiaobai Yao, University of Georgia
2013 (MA) - Benjamin Lundberg, Accessibility and university populations: Local effects on non-motorized transportation in the Tuscaloosa-Northport area, Supervised by Joe Weber, University of Alabama
2012 (PhD - tie) - Danielle Fontaine, The landscape of potential harm: understanding parents' perceptions of the built environment and what this means for their decisions about their child's mode of travel to school in the City of Worcester, MA, Supervised by Susan Hanson and Deb Martin, Clark University
2012 (PhD - tie) - Rakim Mitra, School travel mode choice behaviour in Toronto, Canada, Supervised by Ron Buliung, University of Toronto
2012 (MA) - Monir Moniruzzaman, Accessibility and built environment effects on transit use, Supervised by Antonio Paez, McMaster University
2011 (MA) Kalina Soltys, Toward an Understanding of Carpool Formation and Use, Supervised by Ron Buliung, Sustrans
2011 (PhD) Tijs Neutens, Analyzing Human Activities and Travel Possibilities From a Time-geographic Perspective Supervised by Philippe de Maeyer and Frank Witlox, Ghent University
2010 (MA) Michael Widener Modeling Hurricane Disaster Relief Distribution with a Hierarchical Capacitated-Median Model: an Analysis with Extensions, Supervised by Michael Horner, Florida State University
2010 (PhD) Dilys Bowman, Commitment, connectivity and the neighbors: Greenway trail placement in North Carolina towns, Supervised by Melinda Meade, University of North Carolina at Chapel Hill
2009 (MA) Kathleen Deutsch, What's So Special About This Place? An Examination of Sense of Place and It's Correlation to Travel Behavior, University of California at Santa Barbara
2009 (PhD) Hejun Kang, Moving Beyond the Individual: Activity-Based Modeling of Time Use and Travel Behavior Incorporating Intra-Household Interactions, McMaster University
2008 (MA) Lisa J. Murawski, Maximal Covering Network Improvement Problem, University of California-Santa Barbara
2008 (PhD) Barton Cramer, American Freight Rail: Regulatory Evolution, Strategic Rejuvenation, and the Revival of an Ailing Industry, University of Iowa
2007 (MA) Laura G. Smith, Neighborhoods Apart: How the Physical Environment Reinforces Concentrated Poverty and Isolation East of Washington's Anacostia River, George Washington University
2007 (PhD) Xuwei Chen, Microsimulation of Evacuation Strategies, Texas State University - San Marcos
2006 (MA) Bradley Lane, Plains, Trains, and Automobiles: Land Use, Rail Transit, and Urban Travel in Selected Us Cities, Indiana University
2006 (PhD) Hongbo Yu, Temporal GIS Design of an Extended Time-Geographic Framework for Physical and Virtual Activities, University of Tennessee
2005 (MA) Sean Tierney, Airline and Airport Choice by Passengers in Multi-Airport Regions: The Effect of Southwest Airlines, Arizona State University
2004 (PhD) Julie Cidell, Scales of Airport Expansion: Globalization, Regionalization, and Local Land Use, University of Minnesota
2003(MA) Jessica Tharpe, Sustainable Transportation: A Case Study of Telework and Carpool in Atlanta, Georgia, University of Tennessee
2003 (PhD) Xiaohong Xin, An Exploratory Data Analysis Approach for Land Use - Transportation Interaction: The Design and Implementation of Transland Spatio-Temporal Data Model, University of Tennessee
2002 (PhD) Joseph Weber, Evaluating the Effects of Context and Scale on Individual Accessibility: A Multilevel Approach, Ohio State University
2001 (MA) Julie Cidell, The Conversion of Military Bases to Civilian Airports, University of Minnesota
2001 (PhD) Agatino La Rosa, Integrating Location and Logistics Models, University of Tennessee
2000 (MA - tie) Owen Robatino, Evaluating Uses of Abandoned Rights of Way with a Case Study of the Pomeroy and Newark Railroad, University of Delaware
2000 (MA - tie) Xiaohong Xin, A Spatial Decision Support System for Designing Solid Waste Collection Routes in Rural Counties, University of Tennessee
2000 (PhD) Brooks C. Pearson, An Estimation of Potential Production of Agri-based Ethanol and its Contribution to Transportation Emissions, Indiana University
1999 (MA - tie) Henry J. Rademacher, Landscape Interpretation and Historical Geography on Missouri's Katy Trail, University of Missouri
1999 (MA - tie) Kerry Wood, Bicycle Crashes in New Zealand, Lincoln University [NZ]
1999 (PhD) Garth Banninga Static and Dynamic Analyses of Average Worktrip Travel Times for a Large Set of U.S. Cities, Indiana University
1998 (MA) Gayle Wilkinson, Economic Reform and Jobs-Housing Imbalance in Chinese Cities: The Case of Shenyang, China, Arizona State University
1998 (PhD) Melissa Joy Loughlin, Overseas Air Cargo Service, Airborne Export-Producing Industries, and U.S. Cities, 1980-1995, University of Minnesota
1996 (MA) Eric C. Neubauer, Ohio State University
1996 (Ph.D) Christopher J. Sutton The Socioeconomic, Land Use and Land Value Impacts of Beltways in the Denver Metropolitan Area, University of Denver
1995 (MA) Melissa Joy Loughlin, University of Minnesota
1995 (PhD) Timothy Strauss, Spatial Assessments of Infrastructure: The Importance of Space in Analyses of the Relationship Between Public Capital and Economic Activity, University of Washington
1994 (MA) Katherine Jones, Impact of Double Stack Rail Service on U.S. Ports, University of Kentucky
1994 (PhD) Stefan Arredondo, Railroad Independence in Southern Africa: The Case of the Southern Africa Development Conference, Indiana University
Past Chairs
Irene Casas (Louisiana Tech University, 2018-2020)
Elizabeth Delmelle (University of North Carolina, Charlotte, 2015-2017)
Selima Sultana (University of North Carolina at Greensboro), 2012-2014
Julie Cidell (University of Illinois Urbana Champaign), 2010-2012
Joe Weber (University of Alabama), 2008-2010
John Bowen (University of Wisconsin - Oshkosh), 2006-2008
Jean-Paul Rodrigue (Hofstra University), 2004-2006
Benjamin Zhan (Texas State University), 2002-2004
Shih-Leung Shaw (University of Tennessee), 2000-2002
Mike Kuby (Arizona State University), 1998-2000
Andrew Goetz (Denver University), 1996-1998
Ron Sheck (University of South Florida), 1994-1996
Ira Sheskin (University of Miami), 1992-1994
Bruce Ralston (University of Tennessee), 1990-1992
William R. Black (Indiana University), 1988-1990
Tom Bell (University of Tennessee), 1986-1988
Gordon Fielding (University of California Irvine), 1984-1986
Jim Wheeler (University of Georgia), 1982-1984
William R. Black (Indiana University), 1980-1982
Annual Reports